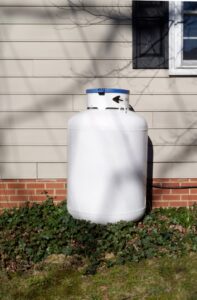 If you have gas appliances without gas lines that run to your home, you may be interested in or already using a propane tank on your property. Not only can we help to your service your propane tank, we can also help with your propane-based appliances. 
If you need services for propane in Gainesville, Fl, you've reached the right place. Our team can help you from start to finish with everything from installation to maintenance, repairs and even refilling your tank when it's needed. You can keep reading to learn more about how our team can help you with your propane appliances.
Benefits of Propane Appliances
Propane appliances have several key benefits that set them apart from other appliances. Many propane appliances do not require any electricity so they will continue working even during a power outage. This is a huge benefit because you can experience less of a negative impact than you otherwise would. You may still be able to cook and have access to hot water like normal.
Plus, propane appliances are known to use up to half as much energy as appliances that use electricity. You stand to save on your energy bills compared to having electric appliances. And if you're concerned about your impact on the environment, you can use propane with confidence. Although it does emit some carbon dioxide into the air, it is considered a much cleaner burning fuel compared to other gases. 
Servicing Your Appliances
Just as we recommend maintenance for your propane gas lines, we also recommend service for your appliances. Gas leaks can pose health and safety risks to your family and home. Having your lines and appliances checked out regularly helps to ensure you never have gas leaks to worry about. Some of the propane-powered appliances we service include:
Boilers
Clothes dryers
Fireplaces and fire pits
Furnaces
Grills
Ovens, ranges, and stoves
Pools and hot tubs
Water heaters
Whole-house generators
Homeowner Maintenance Tips
Aside from scheduling professional maintenance with our team, you can also clean some of your propane appliances yourself. Below we're highlighting some steps for cleaning your oven, furnace, and water heater in between service appointments.
Maintaining Your Propane Oven
Before cleaning, make sure your oven is off and completely cool.
Take out the oven racks.
Mix together one cup of baking soda and water to create a thick paste.
Spread the paste around the entire oven interior.
Close your oven and allow the paste to sit for 12 hours.
Use vinegar to spray the interior of the oven.
Wipe clean.
Maintaining Your Propane Furnace and Water Heater
Check for any blockages that cover the exhaust flue or intake pipe.
Check the heat exchanger for signs of cracks or rust.
Check the igniter and flame sensor for soot and dirt. Use steel wool or a wire brush to clean away any buildup.
Monitor how much the temperature increases during operation. You can expect to see a 40° to 70° increase while the system is running.
Check the gas pressure to make sure it is within the range outlined in the manufacturer's guide.
Look for signs of gas leaks.
Contact Affinity Gas Services today to schedule an appointment with our professionals. We're "The Gas Efficiency Experts."