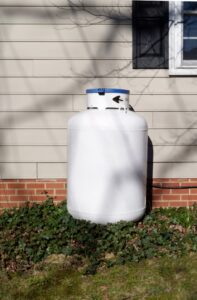 If you have been looking for an alternative to natural gas services, you may be considering a propane tank installation. But what's the difference between having a tank above ground or underground? There are some key benefits to having an underground propane tank that can make the project worthwhile.
If you've been searching for Gainesville propane gas companies to help you with your project, you're in the right place. We have certified technicians who can offer an assessment of your home and property and review your options for propane tank installation. You can keep reading to learn more about the benefits of having an underground propane tank, as well as what goes into installing and maintaining them.
A More Protected Option
If you have the choice between an above-ground or an underground propane tank, an underground option is always the better choice. When a propane tank is under the ground, it is better protected from the elements and weather. It is less likely to sustain damage on a day-to-day basis, but especially during bad weather.
Visual Appeal
An underground propane tank eliminates the visual of having a large tank on your property. This can especially be beneficial when you are selling your home in the future. Even though a propane tank is a really great benefit, the visual of seeing it can be a turn-off for many potential home buyers. Even if an above-ground propane tank doesn't bother you, consider the underground option for future owners, too.
More Yard Space
Aside from the visual appeal, you're also winning back space in your yard. After all, a propane tank can be very large if you want to have enough capacity to go longer periods of time between refills. When your propane tank is underground you don't have to rearrange any furniture or ornaments you have in your yard.
Plus, if you need to use outdoor space for storage, you can do so without worrying about things being too close to your propane tank. Of course, you don't want to put anything directly on top of the unit even with it under the ground, but when the tank is above ground you need to maintain even more space than you would otherwise.
Maintenance Considerations
You may think that an above-ground propane tank is easier to maintain, but the opposite is actually true. Underground propane tanks require far less maintenance since they are not being subjected to higher levels of corrosion and damage. A propane tank in the ground is well protected and so it requires much less maintenance as a result.
Home Value
Having a propane tank will increase your home's value whether above ground or underground. But having an in-ground propane tank may add slightly more value since you have the added benefit of visual appeal. Again, this is a benefit that you won't really see unless you go to sell your house, but when you do you will be very glad you made a wise investment.
Contact Affinity Gas Services today to schedule an appointment with our professionals. We're "The Gas Efficiency Experts."