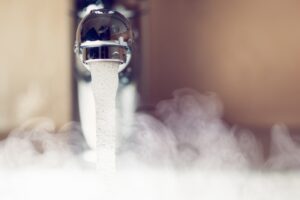 Are you thinking of switching things up this summer when it comes to your water heater? If you are, then we're sure that you're considering a tankless water heater for your home. We know that you've probably come across countless articles boasting the benefits of tankless water heater systems. If you're considering this, then we want to give you all the relevant information today.
We want this to be the last time you wonder if a tankless water heater is right for you. We're a team of professionals that understand what you need to know. We specialize in tankless water heaters in High Springs, FL. Let's talk about all the relevant information you need to know today.
Why Tankless Water Heaters Are Great
Here are a few reasons that tankless water heaters are so great:
You'll Always Have Hot Water
The best things about a tankless water heater are that you'll always have hot water. This is in great contrast to tank water heater systems. Tank water heaters generate a large amount of hot water and then store it until you're ready to use it. This can become an issue because your water heater loses heat as it waits in the tank. 
Tankless water heaters are great because you don't have to worry about these issues. You'll eliminate standby energy loss. Tankless water heaters are great for sidestepping these issues.
They're Highly-Efficient
The elimination of any potential standby heat loss is a great benefit to any water heater. This is because it boosts your home's overall efficiency. You're not going to spend any excess time trying to get your water to the perfect temperature. The heating process happens right when you turn on the tap. This is a great advantage to any home.
They Take Up Less Space
We know that you want to use the space in your home wisely. If you want to take up less space with your water heater system, then a tankless water heater is your best bet. Tankless water heaters are much smaller than tank systems. In certain situations, they can even be placed on the wall.
They Have Longer Lifespans
When you invest in a water heater, you want the system to last you for years. If this is something that you're really invested in, then this is yet another reason to consider a tankless water heater for your needs. Tankless water heaters typically last you about 15-20 years.
Don't think that you can sidestep maintenance just because a tank doesn't need to be flushed. Maintenance is still essential to have a quality experience with your water heater.
The One Setback
We want to address the elephant in the room before we go—the cost. We know that this is one aspect that puts people off of tankless units before they can even give them a fair chance.
Yes, tankless water heater units cost more. They'll save you more money than a tank unit ever could though. This is why they're worth the cost. Contact us when you want help choosing the right system for you.
Contact Affinity Gas Services when you're looking for water heater services for your home. We're "The Gas Efficiency Experts."