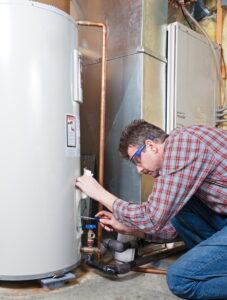 When it's time to install a new water heater in your home, you don't necessarily want to just replace your existing water heater with something similar, even if you were happy with your water heater's performance. Water heater technology has grown leaps and bounds since your current water heater was installed. There are many options on the market, and you want to choose one that fits your family's needs.
If it's time for a water heater replacement in Gainesville, give our team a call. In the meantime, you can keep reading to learn more about what some of your water heater options are. Then when you're ready for a new installation, you can know you're making an educated decision.
Tank Water Heaters
A tank water heater is considered the most traditional option. If you already have an existing tank water heater, this is the easiest swap to make because all of the connections are already there. Keep in mind that even with a tank storage water heater you still have some options. We can help you choose the tank size, so if your current water heater isn't meeting your needs, you can upgrade to a larger tank size. 
Tankless Water Heaters
Many homeowners are drawn to tankless water heaters because of the promise of a nearly endless supply of hot water. While this is a huge benefit, tankless water heaters do also have some downsides. A tankless water heater can only heat so much water at one time, so if you are using hot water at multiple sources, you may experience lower water pressure. You can combat this by spreading out when you wash dishes, run the washing machine, and take showers. 
Heat Pump Water Heaters
A heat pump water heater is unique from other options because it does not create heat in order to provide hot water for your house. Instead, it transfers heat from the surrounding air into the system as a method of heating your water. Since many water heaters are in garages or closets, this is a huge benefit. You can actually lower the temperature in your garage or home by installing a heat pump water heater. Plus, the system uses less energy than other versions since it is transferring heat instead of creating it.
Other Considerations
We already talked about tank size when it comes to a more traditional water heater. But, even tankless water heaters come with other options that you should consider. If you have a large family or plan to use hot water at multiple sources at the same time, our team can install a small, backup tank water heater in your home to meet your needs.
You also want to consider the type of energy that your water heater will use, whether it is gas or electricity. Many times a gas water heater is more energy efficient, but you have to weigh the pros and cons of spending more on installing a gas line if your home doesn't already have one. 
Contact Affinity Gas Services today to schedule an appointment with our professionals. We're "The Gas Efficiency Experts."