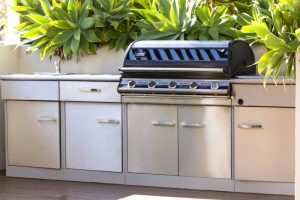 This summer has been pretty different than past summers. We're sure that you've spent your fair share of time indoors this season. If you've wanted to switch things up, you've probably spent some time in your pool or time outside at the grill barbecuing. Can you still count on your barbecue grill though?
If you can't depend on your barbecue grill in Gainesville, FL, it's not going to be a very eventful summer. If you need a little work on your barbecue, you can call us for everything that you need. We're going to make sure you have a fun, safe, and eventful summer here in Gainesville.
Repair… or Replacement?
We're going to help you draw the line between a need for repair and replacement of your barbecue grill. The problem is that many people think that they can repair their barbecue endlessly. This isn't the case—sometimes your barbecue grill is going to need to go. Here are a few rules to remember…
The Problem Signs
Let's start off with the basics here. There are a few things that indicate a problem with your barbecue grill.
Your grill won't light
You're noticing a yellow or orange flame
There's an excess amount of smoke whenever you use to grill
You're noticing gas leaks
The heating across your grill is uneven
You have damaged or dirty tubes
Your grease build-up is severe
You have burner issues with your home
Your flame is very low
These are all the signs that you have issues in your home. Take note of these problems and make sure that you schedule an appointment with our professionals. We'll help you determine if you need repair or replacement for your home below.
You Need to Repair If…
If you're not having significant or constant repair problems, then you can probably get the work that you need with barbecue grill repair. We understand that repairing it is a big financial responsibility and quite the task to take on. We're never going to recommend this to you just to make a quick dollar off of your efforts. We want you to do what's right for your home.
If your barbecue grill concerns are still moderate, then we can handle them with a little repair work. We're going to help you get the service that you need.
You Need to Replace If…
You're going to take things a step further and replace your barbecue grill if things are a little more dire. If you've repaired your grill in the past and had your unit anywhere from 10 to 15 years, then it's time for you to consider replacing your grill.
A grill that's unreliable isn't a grill that you want. If you notice that you're having significant issues, you're going to need to schedule an appointment with us. We're going to walk you through the entire process. We can help you find a great new grill.
Contact Affinity Gas Services today to schedule an appointment with our professionals. The Gas Efficiency Experts.