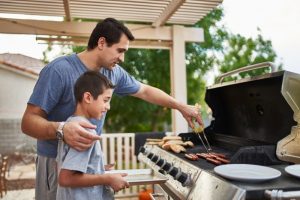 With summer around the corner, we're sure you're looking forward to spending time in your backyard with your family. If you've got a nice patio set up, or better yet, a pool, then we know that your summer is already off to a great start. But what's a summer without a little barbecue every now and then?
Think about it, how many of your best summer memories involve a grill? It's a place where you can bring all your loved ones together and cook them up something tasty. If you're looking for BBQ grills in Williston, FL, make sure that you contact the professionals on our team. We've got your back with whatever you need.
Get Your Grill Ready with Us
If you've already got a grill in your backyard, you're a step ahead of the rest, but you still need to make sure that this grill is in excellent shape with the help of a professional.
Yes, you read that correctly, the help of a professional. We want you to take your preparation a little deeper than just a thorough cleaning. You need to think about the safety of your grill too. After all, a grill is a propane-powered fixture. If you're not preparing your appliance to handle a propane tank, then you could be putting the health and safety of you and your family members at risk.
Need a Little Extra Help?
So let's say that you're in the category of individuals who don't already have a home that's equipped with a gas grill. We can help you get one. All you need to do is come to our team of professionals. Our propane services don't stop at gas barbecue grills. We can also help you power any of the following propane-based appliances:
Furnaces
Boilers
Water heaters
Ranges, stoves, or ovens,
Clothes dryers
Fireplaces and/or firepits
Whole house generators
Spas, pools, and other outdoor amenities
We're a full-service crew at our company. This means that we want to provide you with service that's going to keep you comfortable in absolutely every aspect of your home. That's why we provide both above ground and underground propane tanks.
Above ground propane tanks are good for when you have a little extra space to work with on your property. We can help you find the perfect place to place this tank so that it's never in the way of you moving around your home. We also provide reflective color propane tanks for safety reasons and always fill them to code. Our technicians understand what you need and how to provide you with great service.
The same goes for our underground propane tanks. If you don't have the space for an above ground tank, we can find a spot where you can fit an underground unit. These tanks are completely out of sight and out of mind, except for the part that allows our professionals to service the unit.
We can accommodate all your needs here—get in touch today!
Contact Affinity Gas Services today to schedule an appointment with our professionals. The Gas Efficiency Experts.